White suits are perfection as far as I am concerned. Nothing makes me as feel as chic as donning all white. And a white suit? Double yes. And, why would I limit this blissful feeling solely to spring and summer when I could wear white throughout the year?! Below are my top three tips on making a white suit work year round.

This one seems to be common sense, but it's shocking how many people think they can't wear suits because they tried ONE and it didn't work. The reality is, if the cut isn't one you love it's not going to suit you in any season. 😉 There are so many varieties when it comes to the cuts of pants and jackets – and there's definitely not a one-style-fits-all suit. I particularly love this updated cape/jacket paired with a wider legged slightly cropped pant. The loose legs flow ever-so-gracefully as you walk giving the look a super femme and flirty feel despite the masculinity typically associated with suiting. Plus, the material is the perfect weight to wear year round.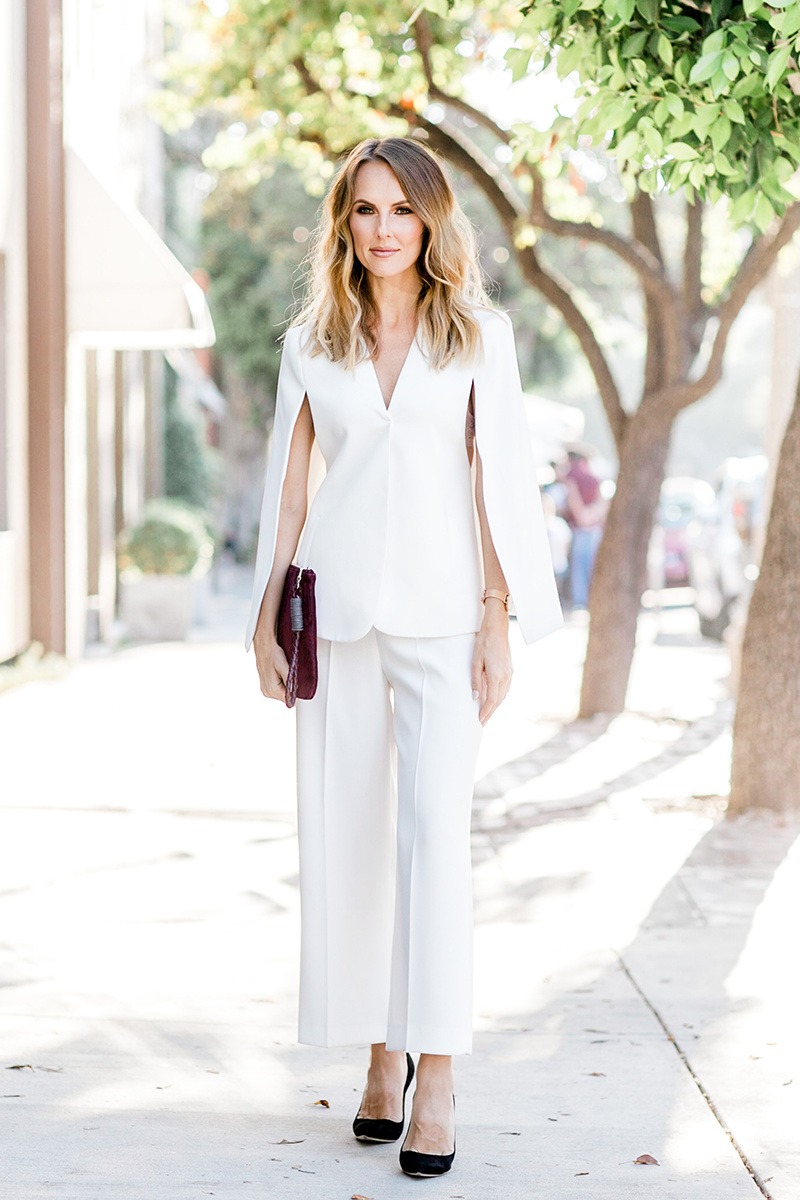 Yes there are people who say you shouldn't wear white after Labor Day. There are also people who say you should never order dessert before dinner. Do you want to live your life according to these people and their random 'advice'? Yea, I didn't think so. Wear white as you wish, and do it with poise. White is a clean canvas, so pure, and exudes peaceful vibes. To me donning and all white suit says "I'm graceful. I'm elegant." Wearing white requires confidence (and a steady hand while eating!), and I'm always keen for the challenge.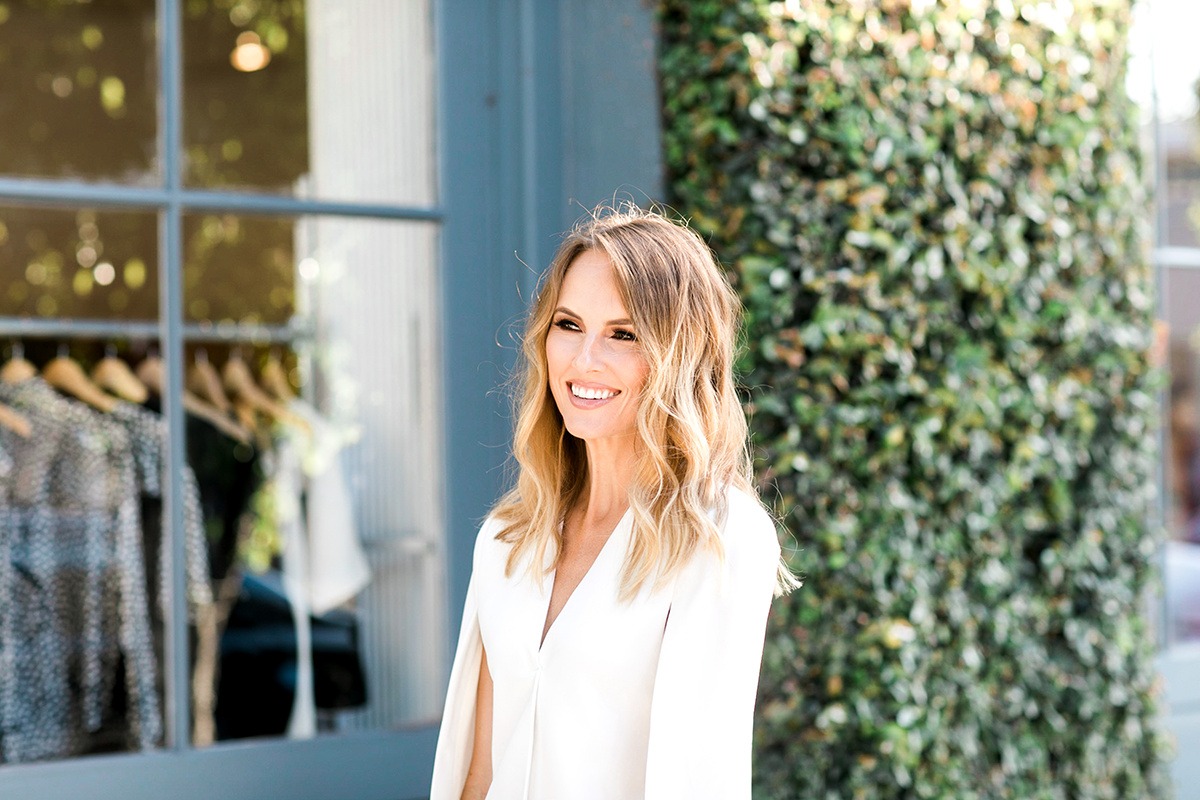 Grab a bag in your seasonal color of choice. For example, in fall you can add a rich autumnal burgundy or pair with suede. Bonus points for doing both. This burgundy suede clutch is the perfect piece to finish the look and make it fall appropriate. *BTW, burgundy is one of those colors that seems a bit intimidating, but truly it can be worn various ways. If you're nervous to try it, start with a solid palette (like this white suit!) and ease into it from there.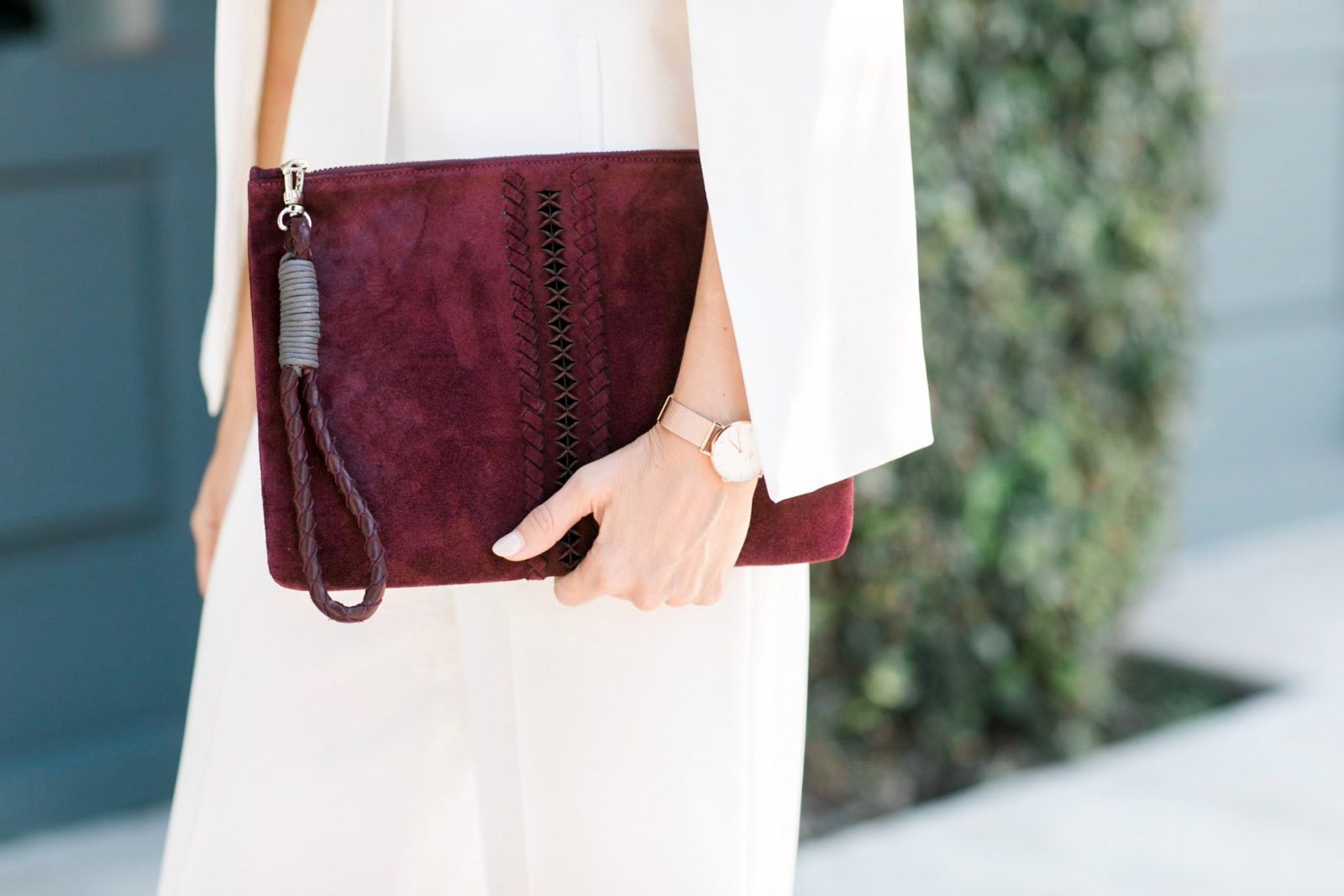 photography: TSLR weddings
MUA: Priya Sane facesbypria.com
Photography TSLR Weddings
MUA Priya Sane