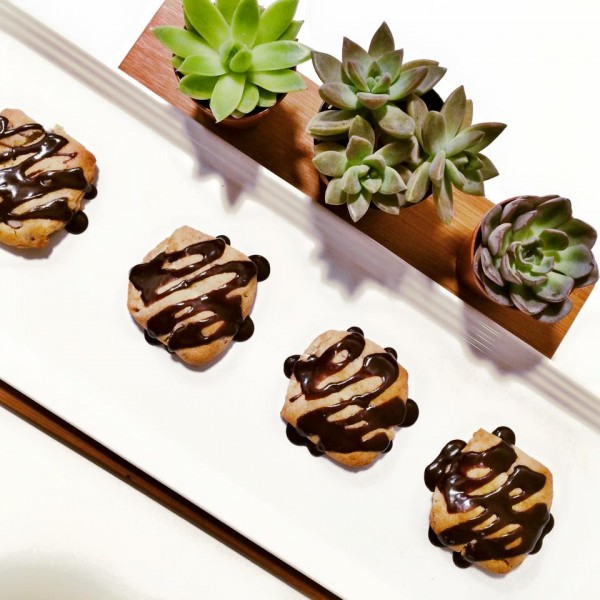 A rainy night is always the perfect time to do some baking and relaxing. Tonight I decided to whip up some marshmallow stuffed s'mores cookies. Yessss people, this is a real thing! Veggie And The Beast has just the recipe you need to make these delicious and decadent cookies in your own kitchen!
Recipe from Veggie And The Beast:
YIELD: 20-22 cookies // PREP TIME: 1 hour 15 minutes // COOK TIME: 10 minutes // TOTAL TIME: 1 hour 25 minutes
Ingredients:
2½ cups unbleached all-purpose flour
½ teaspoon salt
1 teaspoon baking soda
½ teaspoon baking powder
1 cup unsalted butter, softened
¾ cup dark brown sugar, packed
2 tablespoons honey
2 large eggs
½ cup milk chocolate chips
½ cup mini semisweet chocolate chips
¾ cup hand-crushed graham crackers, NOT fine crumbs
10-11 large gelatin-free marshmallows (see notes), cut in half
Directions:
In a small bowl, combine the flour, salt, soda, and baking powder. Set aside.
Cream the butter for a minute or two, then pour in the sugar and mix until light and fluffy. Mix in the honey, and then beat in the eggs.
Gradually add the dry ingredients to the wet ingredients. Fold in the chocolate chips, and then gently fold in the graham cracker pieces.
Refrigerate the dough for at least 1 hour.
Preheat oven to 350 degrees.
Scoop up 1 tablespoon of dough, roll into a ball, flatten, and set down on a parchment-lined cookie sheet. Set the marshmallow right in the middle. Top with another tablespoon of flattened dough and press together. Repeat with remaining dough.
Bake for 10-13 minutes, until the sides are golden. Let sit on the cookie sheet for a couple minutes, and then transfer to a cooling rack.