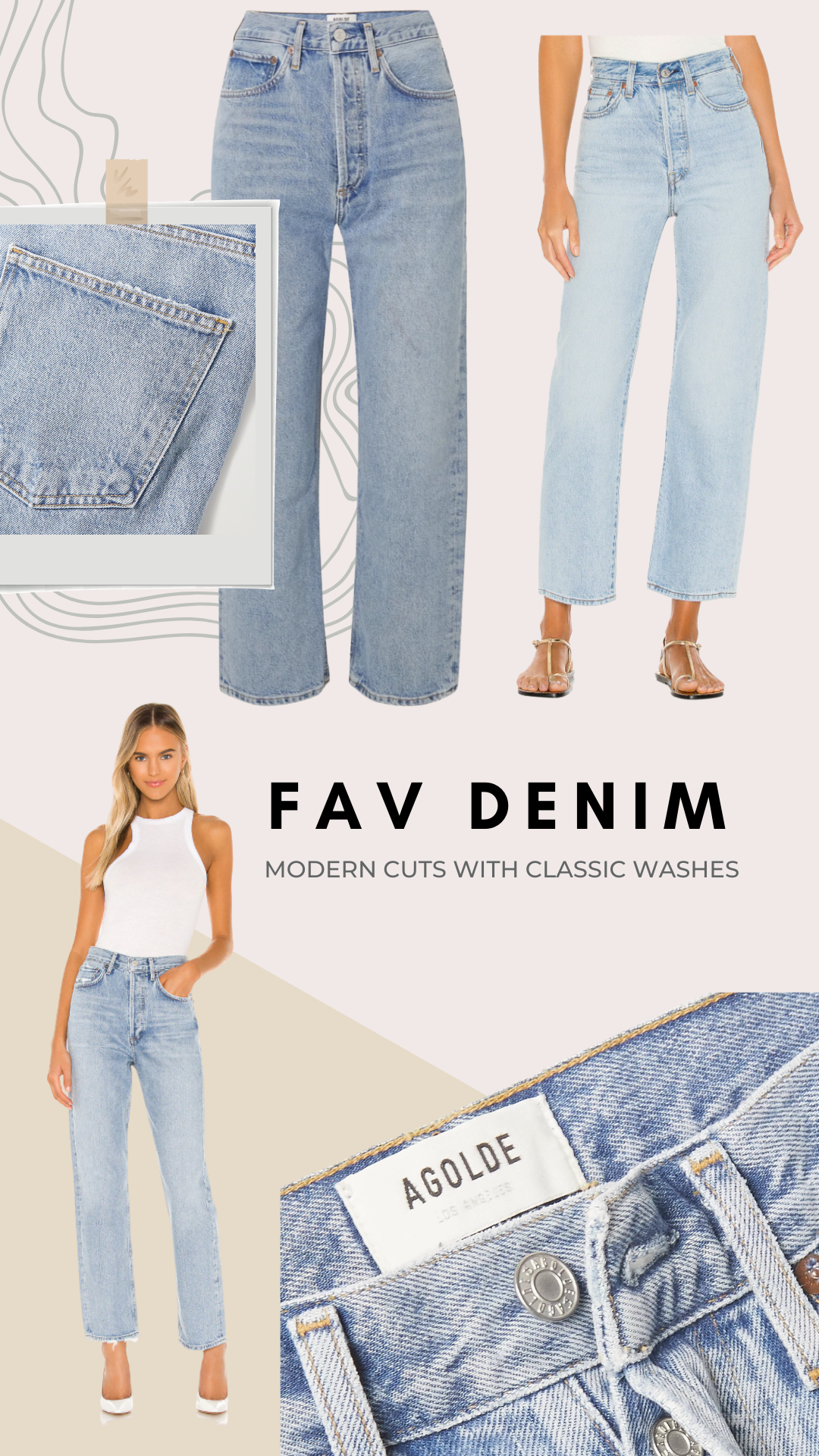 Good denim is a building block for most capsule wardrobes. A pair of well-fitted denim can carry you from day to night and accompany you season to season. Styles and trends change year to year, but high-rise straight-legged denim has accompanied me for years now. I tend to stick to vintage washes with modern fits. I lean towards less aggressively washed/treated denim as I find those can easily be recognized as season-specific and tend not to age well.
My go-to favorite denim brands? Citizens of Humanity, Agolde, and Re/done.
I remember my first pair of Citizens denim. I was in college and my roommate actually purchased them for herself and they did not suit her so she gifted them to me. It truly felt like a stroke of good fortune. They were about $135 at the time, fit me perfectly, and were so comfortable to wear. Citizens of Humanity denim instantly became my new go-to. Prior to this, it was 7 For All Mankind— back in their glory days! Funny enough both brands were started by Jerome Dahan. All these years later I am still a Citizens devotee. The majority of my denim is Citizens, but I will admit their recent collection doesn't leave me feeling too inspired.
Current Citizens of Humanity favorites:
Another favorite? Agolde! I discovered this brand in late 2014. After a bit of research, I found the brand had been around for some time but was relaunched by none other than who? Jerome Dahan. If I had to describe what Agolde is known for, I would say it is perfectly washed, non-stretch denim, with a button fly. The fit is always great, and the styles can be worn for years. I have a pair of Agolde Riley's that I bought in 2017 (2016?) that is still my favorite. They're straight leg, light washed (but not distressed), non-stretch, and look put together yet laid back at the same time.
Current Agolde favorites:
Re/done is a brand that originated specializing in re-worked Levi's to ensure the perfect fit. They now work with Levi's as well as have their own designs. I find their fits and sizing a bit difficult to nail down, but time and again I spot someone in denim I like only to learn that once again it is Re/done.
Current Re/done and Levi's favorites:
As always, I recommend selecting the pieces that bring you joy and make you feel amazing when you're wearing them. If your desire is to invest in denim and wear for years to come, I would suggest being mindful of considering how the particular style and wash will age as well as how quickly your personal style tends to evolve.