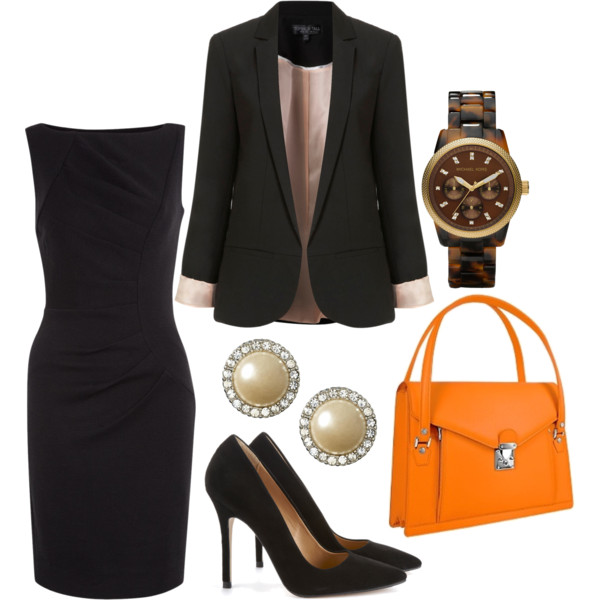 I recently took over as social media maven for Dress For Success Greater Orlando. I was so inspired at the last meeting by all of the amazing women coming together to assist other women in the successful pursuit of a career. Amongst the services offered by Dress For Success is a personal styling appointment for your interview. But, some women don't have access to DFS in their area or simply don't have time to wait for an appointment. So, I thought why not put together a couple outfits so that anyone in need of this info can quickly find & utilize it!
A fail-safe recipe for an interview outfit? Stick to the basics:
dark clothing: wearing a dark dress, skirt, pants, jacket, etc is a great way to not only look super presentable, but to also avoid last minute outfit catastrophes! Imagine you're in a gorgeous light colored outfit and you're early for your interview so you pop into Starbucks for a latte. Next thing you know the coffee has spilled and now you're covered in stains with no time to head back and change. Disaster, right? Totally avoidable. First, be careful with your Starbucks! But seriously, wearing a dark color is amazing at camouflaging these sort of last minute mishaps. You don't want to show up to the interview and have to explain that you're a klutz and spilled your coffee moments before.
simple black pumps: do NOT wear your sky high club shoes to an interview. Unless of course you're interviewing to be a stripper, and then you go right on ahead sista!
keep the jewelry minimal: you want the focus on you, not your chandelier earrings
colorful briefcase: if you're in need of a little something extra with your simple interview outfit, add a colored briefcase. Once you've entered the room the briefcase will be at your side and not distracting in the way that a large necklace or earrings is. It completes your outfit without being distracting. Afterall, the interview is about you.