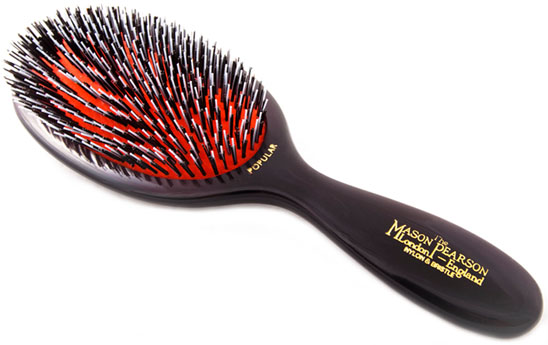 Do you have hair? Do you love it? Then there's only one brush you should be using and it's a Mason Pearson. Ok, maybe I'm being a touch dramatic, but I seriously love this brush.
There is one thing that I carry with me anytime I'm going anywhere over night– that's my Mason Pearson brush. Occasionally I use different brushes when blowdrying my hair, but for actually brushing through before washing or when trying to get out the inevitable knots that come with long hair I only turn to my Mason Pearson. (I even take this brush with me to the salon so that I don't have to endure having another brush used on my hair!)
If your hair is prone to tangling/knots this brush is a godsend. I favor the nylon & boar bristle mixture, but they also make nylon only and boar bristle only versions. I have the 'Popular' and it's the perfect size for every day use. I have been using Mason Pearson brushes for years, and really doubt that I'm ever going to find a better replacement.
Incase you need a little more convincing to give this brush a go (because, yes it is expensive), a few years ago I had the pleasure of working with the legendary Orlando Pita as a hair model and I noticed his entire team was outfitted with Mason Pearson– further cementing my belief in the powers of these brushes.