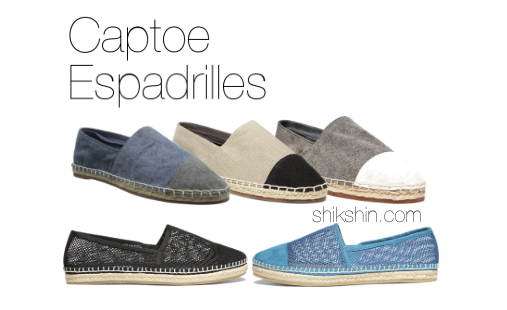 clockwise from top left: denim, sand, gray, blue, black
I love the Chanel espadrilles, and actually ordered a pair about a year and a half ago through WPB Saks. Sadly they later emailed to tell me they were no longer available in my size. Since then I've had my eye on them, but never managed to snag a pair. Part of this is due to wanting an exact color combo, and another part I think was just luck. I say luck because those things aren't cheap and now there are so many amazing dupes available. All of these are less than $100, and at $600 for the Chanels you could have quite a few pairs of new shoes. An espadrille is a summer staple and can be worn with shorts, skirts, dresses, to the beach, to brunch, really the options are plentiful. Being that Florida has such a tropical climate we could really wear espadrilles here year round, so I'm on the hunt for a well made and comfortable pair.
Have a pair of super comfy espadrilles? Let me know who makes them!
More captoe espadrilles for your viewing & shopping pleasure: