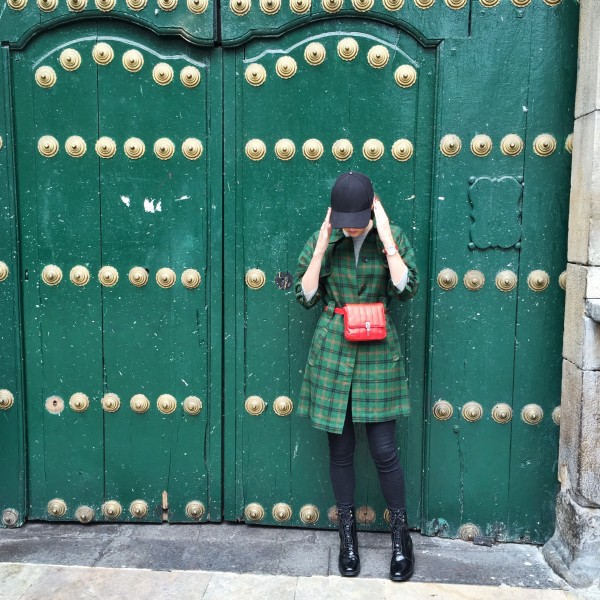 hat H&M (similar) // coat F21 (sold out but love this cream option) // bum bag ELIZABETH & JAMES // denim F21 // combat boots ZARA (similar)
One thing you can't predict when traveling is the weather. We all know weather apps and weather (wo)men lie. When I headed to Bogota I knew there was a chance of rain so I packed these combat boot wellies and intended to pack a rain coat, but it seems in the last minute shuffle it got left behind. Of course the rain came, and my wardrobe wasn't prepared. Most all of my coats and sweaters were furry and not good options for the rain. My other option was my tiny faux leather jacket that I wore in Japan, which as it's short didn't really seem warm enough. Due to a lack of options I ended up wearing this plaid wool coat which fortunately was perfect for the temperature and even more fortunately didn't get too wet thanks to my handy paraguas that was purchased on the street from a woman yelling "paraguas, paraguas, paraguas" every thirty seconds. Aside from the rain the exploring was amazing and this bum bag is a life saver. I know they have a bad wrap, but honestly for travel they are so so so convenient. I love the buttery soft leather of this one and the stitching detail makes it feel a bit more luxe.
*Note: if you want to be in need of an umbrella anywhere Bogota is the place to be because you will inevitably run across loads of paraguas sellers and they make it super simple to locate themselves by yelling incessantly.