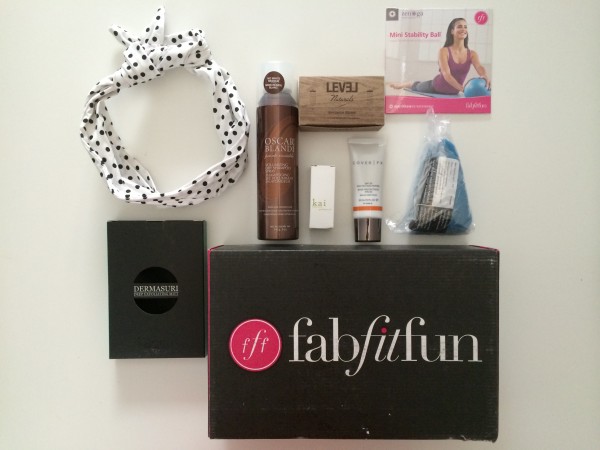 fabfitfun very graciously sent me this box to review. fabfitfun is a quarterly subscription box that is centered around health conscious living. Each box includes items hand-selected by Giuliana Rancic and her fabfitfun team. When they first contacted me regarding sending me a box I was a bit concerned as to how many of the items I'd really enjoy. I strive to write honest reviews, and I'd feel badly to have something arrive only to dislike it. I'm not a fitness enthusiast by any means and I had a feeling all items would be centered around fitness, luckily that's definitely not the case! I could have saved myself a bit of worry and looked up other reviews while waiting on my box, but where's the fun in that?! I decided against it so that I could open the box without any outside thoughts influencing me, and boy am I glad I did. I was so pleasantly surprised! Unfortunately I was in the middle of a move when I received this box, so it actually got packed into another box and "lost" for about a week. When I finally found it I had spent the day painting baseboards, unpacking boxes, and moving things around. Generally speaking I wasn't looking or feeling my best. I have to say, it was a great time to open this thing! Want a box of your own? Use code "lucky14" to receive 10% off your fabfitfun box.
Here's a breakdown of what my VIP fabfitfun box included:
The Better Chip Spinach and Kale with Sea Salt– I immediately opened these and devoured them while looking through the other contents of the box. I think it's the first healthy thing I've eaten in about two weeks. Moving is stressful, people. There's only so much fast food one can take. This was such a nice reprieve, and these provided the first taste of veggies that I've had in a while. Not to mention they are non-GMO verified and gluten free. So delicious and guilt free. What's not to love?
Cover FX SPF 30 Protection Primer– This has a gorgeous light citrus scent and goes on so so smoothly. More days than not I don't care to go through the hassle of applying makeup, but my regular morning lotion can leave me a little too shiny. Enter this primer. Perfectly hydrates, protects, and smooths skin all while leaving a subtle matte finish. Worn the traditional way it helps prolong your makeup wear. It's also a vegan product that is gluten-free, mineral oil-free, talc-free, and paraben-free.
Merrithew Mini Stability Ball and DVD– must admit I have not tried this yet. However, I do love the size of it! If you enjoy travel like myself this is the perfect companion to pack. It is tiny when not inflated and has a dvd which can easily be popped into your laptop for exercise on the road. The exercises are based on a unique ZEN-GA workout which aids in building stamina, resilience, and core stability. With promises like better posture and improved mobility I cannot wait to give this little guy a go! Use code "FFF14" to get 15% off your next purchase. Expires May 31, 2014.
Dermasuri Deep Exfoliating Mitt– I was so excited for this one. Some of you may know that I lived in S. Korea a few years ago. I first saw these exfoliating cloths in use at a jjimjilbang (Korean bath house of sorts). I quickly purchased one for myself and have loved them ever since. I always forget to use mine, but this handy glove version will surely get some use. The Koreans are always ahead of us in regards to beauty items, and this is no exception. These exfoliating mitts help in sloughing off dead skin cells to reveal radiant skin. Typically I purchase mine in local Asian groceries, but they are long cloths. I miss my old mitt, so A+ to fabfitfun for including something that reminds me of my Seoul life and A+ to Dermasuri for making these. Use code "FFFVIP25" to get 25% off your next order. Expires Dec. 31, 2014
Cult Gaia Turband– I actually put this on while eating my spinach and kale chips. This turband is adorable! For the first time in a couple weeks I actually felt cute. Sure my hands were covered in paint and I was wearing two articles of clothing that should never be seen together, but somehow this turband pulled it together. Perfect for running errands, throwing on after the gym, or even for including as an accessory to any outfit. Several different versions here
Oscar Blandi Pronto Dry Shampoo Invisible Spray– Many dry shampoos have scents that are overpowering, however this spray has a very light scent which is great. It sprays on clear and stays clear– for those of you with dark hair who are wondering if this will leave a chalky residue. I've used this product before, so it wasn't new to me but that is ok. I was super excited to get something that I already knew I like. It is one of those products in the box that I used immediately, because let's be honest… someone who is covered in paint, wearing mismatched clothing probably hasn't given much thought to their hair. My poor hair had been in a ponytail for probably three days. Disgusting, I know. But, whatevs. This is real life and in real life people have flaws and messy hair. I sprayed this on to see how it could perform in such a helpless situation and I felt a bit better. Maybe it was just because I now smell like hair products instead of paint? Don't know, don't care. Any improvement is valid and noteworthy. If you'd like to try it yourself use code "FabFit20" to get 20% off your next order at OscarBlandi.com
Level Natural Shower Bombs– Must admit I have not tried this one yet, but I am excited at the thought of a SHOWER bomb. I don't do baths. Ick. So I'm not one to use bath bombs, but a shower bomb? Yes, yes, and yes. Simply drop one in the bottom of the shower and the water and steam activate it. Menthol and eucalyptus scent provides a spa-like experience while tea tree essential oil pampers your feet and helps you detox. I nearly want to abandon writing this just to go hop in the shower and experience this! This evening… it's on.
Kai Perfume Oil– Super convenient applicator is perfect for keeping in your purse, gym bag, or even your car. It's made with essential oils and has a spa-like scent.
The box is $49.99 a quarter, and if this box is any indication it is certainly worth it! The goodies in my box totaled $217 and I simply love the excitement of receiving mail that is not a bill (or a letter to tell me my card has been canceled due to the Target breech)! Don't forget you can use code "lucky14" to receive 10% off your fabfitfun box.