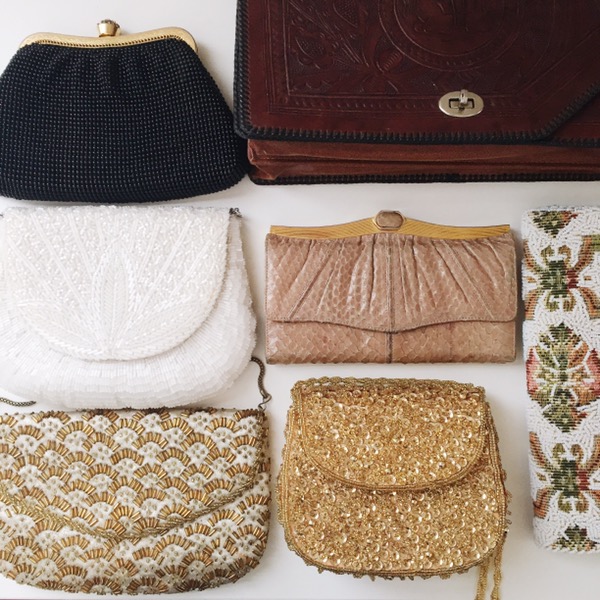 Thrifting is a hobby of mine that I love to do both when I'm in my own city as well as when I'm exploring new ones. The possibilities of what you will find are seriously limitless. I love having unique pieces and thinking of the lives those items lived before joining me on my journey.

In this post I'm going to address fashion items as home items are a whole different beast. My favorite fashion items to shop for while thrifting are beaded tops, maxi dresses, belts, bags, and jewelry. I love finding the occasional amazing blouse, pants, skirt, etc, but the unfortunate reality is that I rarely find those items in sizes that fit me.
Beaded tops can be purchased oversized and worn in so many different ways. Wear it solo with a pair of jeans, over a turtleneck or white button down, or under a blazer.
Maxi dresses can easily be belted to make an oversized dress look chic and more of the moment. The volume of the bottom half of the skirt helps off set this bulky-turned-belted look.
Belts are awesome because they are SO CHEAP. I've scored belts for less than 50 cents and belts can definitely transform a look. I'm not huge on large statement necklaces so an interesting belt is an easy way for me to accessorize.
Bags are great because there are so so many options and you don't need to worry about whether the size will fit once you take it to the dressing room. Beaded, suede, leather, fringe, you name it you can find it. A few of my favorites can be seen here.
The final thing I tend to look for is jewelry, there are some real gems to be found. As everything else, jewelry is dependent upon personal taste, but so many options at so many price points are available. Basically, if you can't find something you like then you probably hate everything. Including puppies. And kittens. And air.