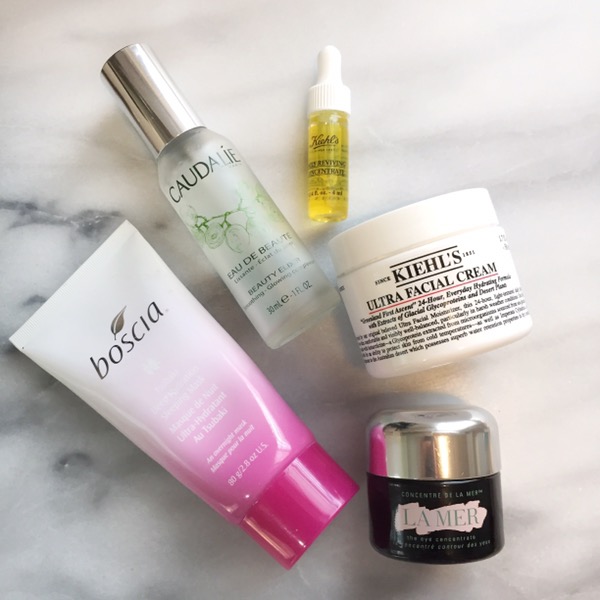 Between November and March I think I took something like 35 flights. That is a lot of climate and pressure changes, and my skin could have decided to betray me any of those stages. Arriving at your destination with skin that has been zapped of moisture is not ideal. Arriving to your destination only to wake the next day with breakouts is really not ideal. To avoid these situations I started an in-flight skincare routine years ago. It changes as I find new products, but the basic structure is the same.
First, I don't wear makeup on flights. I know, I know. Some of you don't even leave your house without makeup. I get itttt. But, for me flying with a full face of makeup is just not happening. At a maximum I will put on a couple swipes of mascara, concealer, and a lipstick. Even then I carry makeup removing wipes in my bag to get rid of the lipstick and concealer during the flight.
Moisturize. I keep Caudalie Beauty Elixer in my bag and spray repeatedly throughout the flight. For the past couple years I've been using belief Aquabomb and it works wonderfully. Unfortunately I ran out on my flight back from the Philippines and grabbed a container of Kiehl's Ultra Facial Cream as a replacement. Absolutely love this stuff. While at Kiehl's I worked with the associate on setting up a new skin care routine and purchased several new items, one of which was this Daily Reviving Concentrate. I add a couple of drops of this serum to my moisturizer and then pat it into my skin. As a tip – the SA gave me sample sizes of all the items I purchased. These are great for keeping in your carryon.
Moisturize, and moisturize again. Now that I have my moisturizer and concentrate on I like to add an eye cream. Currently going back and forth between La Mer The Eye Concentrate and Kiehl's Powerful Wrinkle Reducing Eye Cream. The skin around the eyes is very delicate and is the first place I notice moisture to escape from while flying. Depending on length of flight I either pause at this step or add a sleeping mask to the entire face. My favorite sleep mask is the Tsubaki Deep Hydration Sleeping Mask from Boscia. After this I spray the claudelie once again.
All these steps may seem excessive to some, but seriously this routine has not failed me. Also, I spray Caudalie throughout the flight when my skin is feeling a bit tight or dry. And, I should mention that during long international flights I often will re-apply the Boscia sleeping mask.