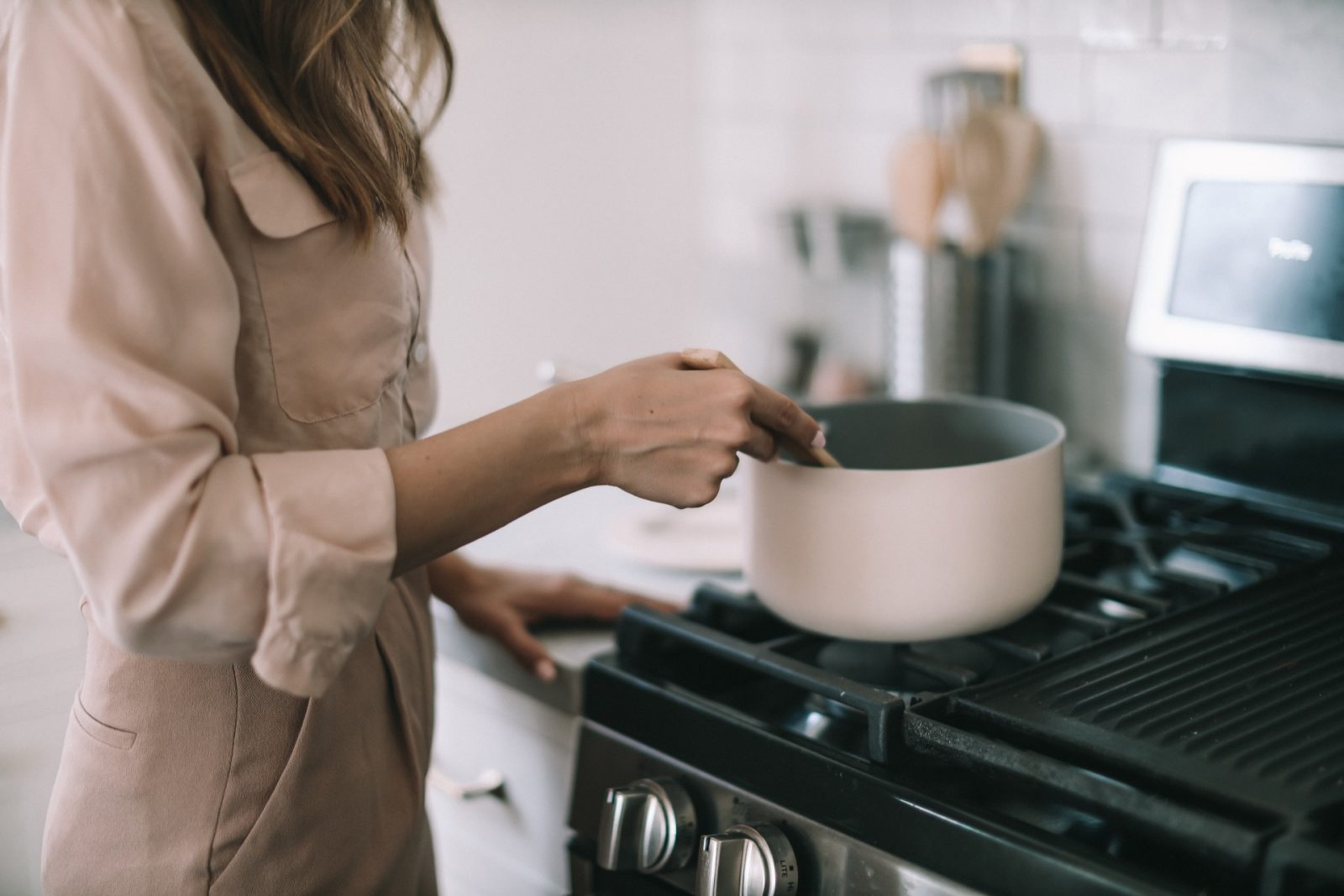 Let me preface this by saying prior to quarantine nothing in my kitchen was getting ample use except my frother and perhaps my juicer. This new normal has found me cooking more frequently and as such gave me the perfect opportunity to really test my Caraway pots and pans. Let us start with the basics that drew me to Caraway cookware – this nontoxic cookware set is Teflon-free, non-stick, reportedly easy to clean, and honestly, I wanted something that would look great on my open shelving. Let's dive into this Caraway cookware review, shall we?
HOW DO THEY COMPARE TO THE MARKETING CLAIMS?
I'm happy to report that these pots and pans are truly nonstick – from ddeokbokki to my boyfriend's morning eggs nothing sticks to Caraway cookware. The pieces are exceptionally easy to clean — a quick wipe down with the soft side of my bamboo sponge is all that is required. They also reportedly can handle upto 650 in the oven, but I've not yet tested this. And, as expected, they look great on my open shelves. +2 points toward the Caraway cookware review.
AESTHETICS AND STORAGE
Caraway cookware gets major style points not only for the design but also for the canvas lid holder and magnetic pan racks. The pan racks make storing them so simple and also visually pleasing. If you're tight on space they can also be stacked with the lids upside down which fit perfectly in place and provides a flat surface. To be fair, aesthetics were a big consideration in my purchase. I found many other nontoxic brands that fit the bill, but most only carried colorful sets. This cream color is precisely what I wanted for my kitchen. These sets come in five colors: gray, perracotta (pink terracotta), sage, navy and cream. The cream seems to always sell out first, so if you're interested hop on the waitlist so you can grab yours once they're back in stock.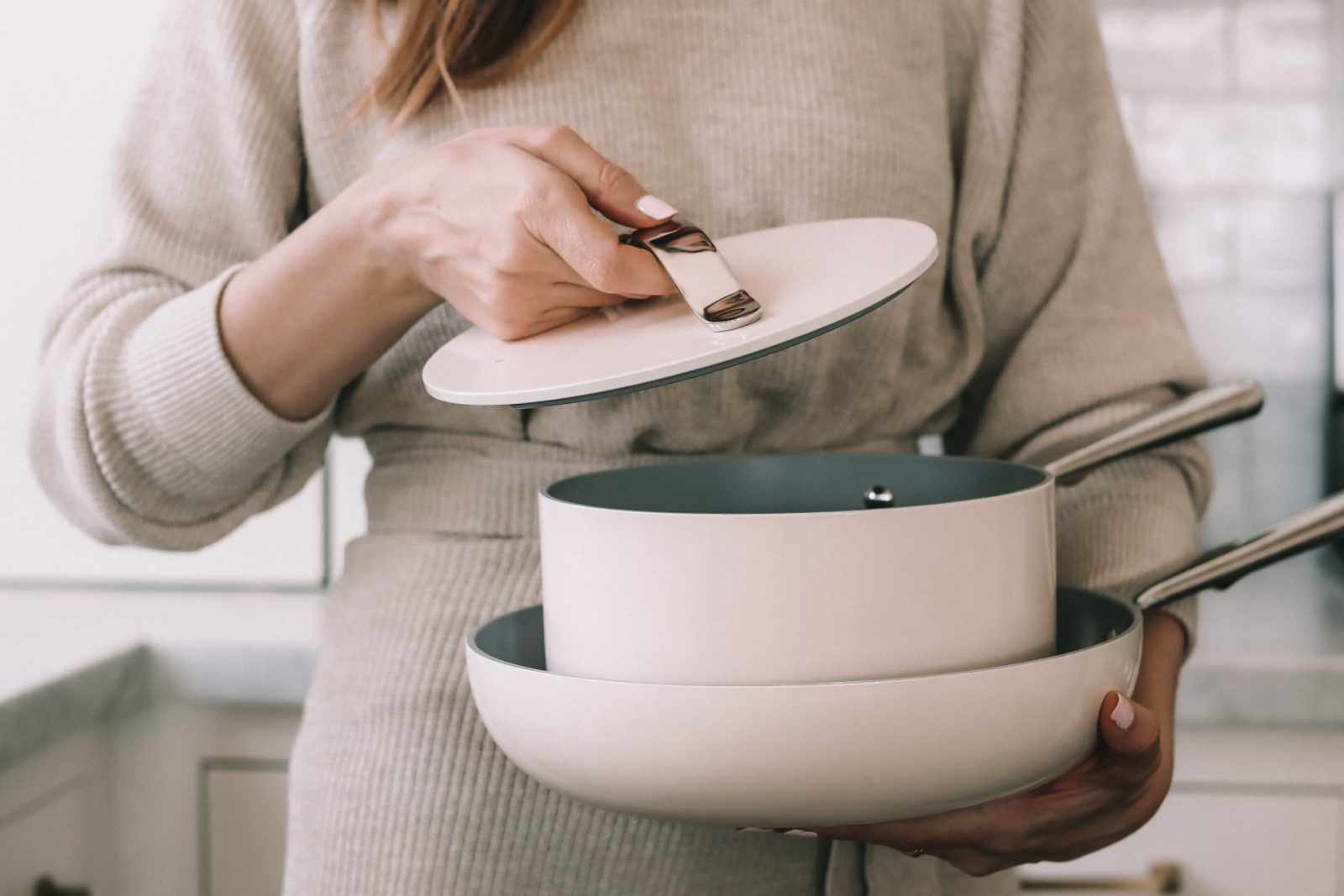 PRICE
Would this be a proper Caraway cookware review if I didn't mention one of the painpoints? I will acknowledge the price of these is highest amongst the non-heritage brands. Six-piece sets can be purchased from competitors for 1/5 of the price of these two pots and pans. At essentially $100 per cookware piece, the price is considerably more expensive than other items on the market. I did not find it price prohibitive, but I did pause momentarily because this was a newly launched brand with few reviews. However, compared to heritage brands the prices are fair.
WHY CARAWAY COOKWARE RATHER THAN A HERITAGE BRAND?
I grew up with my parents exclusively using three types of cookware Le Cruset, cast iron, and glass. Anytime we visited a place with a Le Cruset store my parents would excitedly buy a new piece — that is what life was like pre-eCommerce. I love heritage brands, Le Cruset specifically, and went back and forth on kitting out my kitchen with it, but ultimately the weight of the items was a deal-breaker. If you have any neck issues you will understand the need for lighter-weight everyday use items. While I would not classify Caraway cookware as exceptionally lightweight they are lighter than Le Cruset and easier to move around – especially when full. Also worth noting, I intentionally searched (and waited for) cookware items in this color so I can later add some Le Cruset pieces.
WHY IS TEFLON-FREE IMPORTANT?
At high temperatures, Teflon coatings can release toxic fumes into the air causing flu-like symptoms and can kill birds. The idea that fumes from a pan that will soon cook my food can kill any living being is a major concern for me. Ceramic non-toxic cookware releases 60% less CO2 than traditional Teflon non-stick cookware. Additionally, when Teflon pans are scratched (forks/knives/cleaning abrasions) the nonstick coating can lift from the pan and leech into your food. If you're interested in other ways to detox your kitchen, I've covered that as well.
FINAL THOUGHTS
Overall I am very pleased with these items and have already happily recommended Caraway cookware to several friends. I do wish they offered an 8″ pan. The one included is a great size for a family, but for my own cooking purposes, a smaller one would suffice. I hope you've enjoyed this Caraway cookware review. Please feel free to leave any questions in the comments or email me directly.