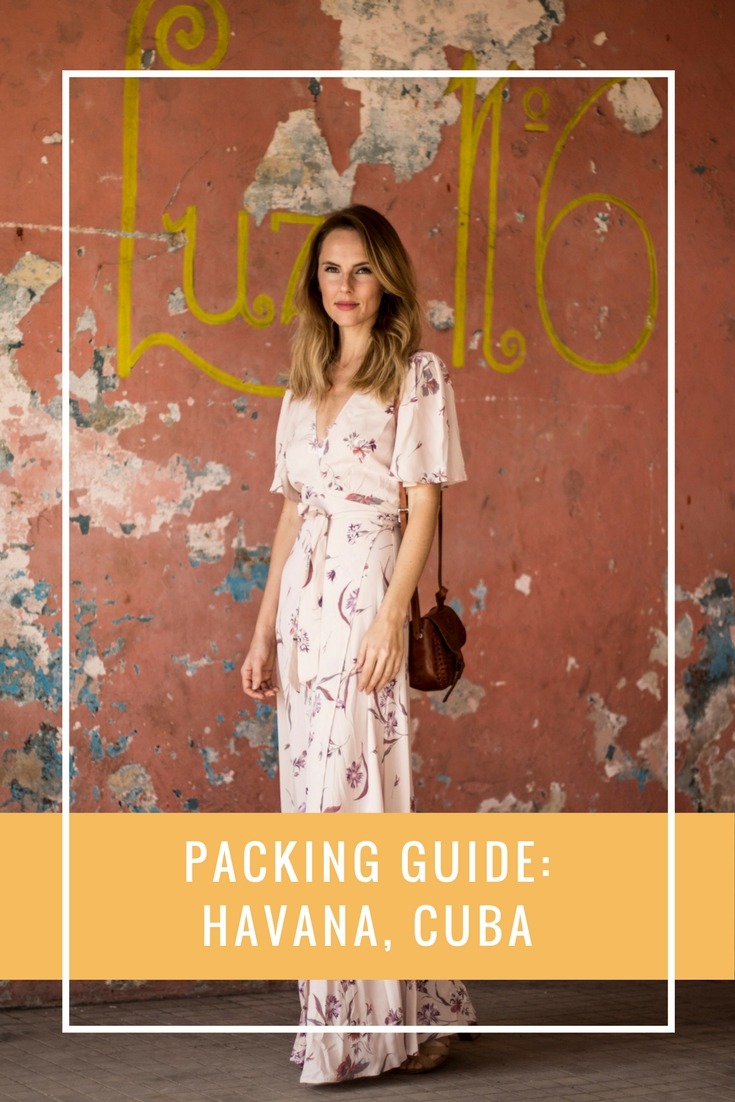 What to pack for a trip to Cuba?!  This is a question I have received more than once so I thought I'd share my thoughts here. In case you missed it, Havana is hot and humid. I'll also say it was a lot more casual than I envisioned.
Pack materials that do well in this climate. Breathable fabrics like linen and cotton will be your best bets. I love silk and took some silk items with me, but to be fair they were difficult to deal with. I steamed them before I left, folded them perfectly, but by the time I arrived they were terribly wrinkled. And of course my apartment didn't have an iron. I'd definitely use silk as an example of what not to wear in Cuba. I used my hair dryer to do what I could, but silk can be stubborn. My fav piece I wore during my trip was a white linen shirt dress, because it was light weight and still femme. Linen can get wrinkled easily – I like that look, but if you don't be sure to pack some wrinkle releasing spray.
Comfortable footwear. In Havana Vieja all the streets are cobblestone – pack your shoes accordingly. The sidewalks are small and often occupied as everyone walks in the street. Read: this is not a place for stilettos or wobbly shoes.
Layers. As hot as it was in Havana we did have a little bit of rain which brought cooler temps for the evening. I wore a sweater to a rooftop dinner one night and am glad I had that option. I'd pack a pair of jeans and a sweater just incase (I do this for all trips because you never know). Also, for safe measure I always bring a pair of socks even if I plan to wear sandals.
Eye / Face Protection. It's very sunny, so if you're sensitive to light or burn easily I'd definitely suggest a hat. Due to construction I constantly got particles of sawdust (and who knows what else) in my eyes. For this reason I wore sunglasses everywhere.
Pack for your activities. In my case, I went to Havana with zero set plans and only the intention of exploring the city. As such I packed a little of everything with very limited idea of what to expect. I would say that most every place in Havana will accept you in casual attire. There are, of course, places that people go in the evening and dress up, but for the most part everyone is dressed casually. A couple of times I wore maxi dresses in the daytime and got several stares. If you're going to the beach from Havana Vieja remember to pack not just a bikini – but something comfortable for the 30+ mins to get there and to wear over it. If you plan to go to cigar farm, pack trainers, boots or shoes to cover your feet.
Leave your fancy items at home. If you stay in (or visit) Havana Vieja you'll be walking on roads which have loads of dirt/dust and you'll be in and out of old cars or pedicabs all day. I anticipated this situation so I traveled with only one small designer bag– and even that felt out of place. Instead I opted for carrying a simple crossbody bag or a belt bag. It's not that you can't carry expensive/fancy items here its just that it seems out of place. To be clear, I felt entirely safe in Havana so I'm not saying not to bring nice things because I'm afraid you'll be robbed. 
Other Items That I'd Recommend Bringing With:
Conditioner. One thing I couldn't find anywhere was conditioner. I rarely condition my hair but having gone from NYC – Tampa – Orlando – Havana in a week's time my hair was majorly on the fritz. I went to salons, tiendas, asked hotel staff, and asked strangers. It was impossible. No conditioner anywhere. Items come to the island randomly and when they do they hit the store. During my time apparently no conditioner arrived.
Snacks. I have food allergies which limit some things I am able to eat. As such I packed many snacks to bring along- mostly baked goods (because I have a major sweet tooth) and some savory snacks. Snacks are not readily available (especially if you have allergies/restrictions) and all of my snacks were eaten by the end of the trip.
Sunblock. Self explanatory. You will need this and it's always better to bring it with you than to search for it and pay a premium.
Hand sanitizer / wet wipes. I found that my hands got dusty/dirty easily because I would pop into little stores and explore their merchandise. Often these shops are open to the outdoors and can get a bit dusty. Also the cabs are older and the pedicabs… well, they are pedicabs. I like to keep snacks on me, so it's nice to have soap at the ready. Also, you may find yourself in a situation where there is no toilet paper in a public restroom so it is best to be prepared.