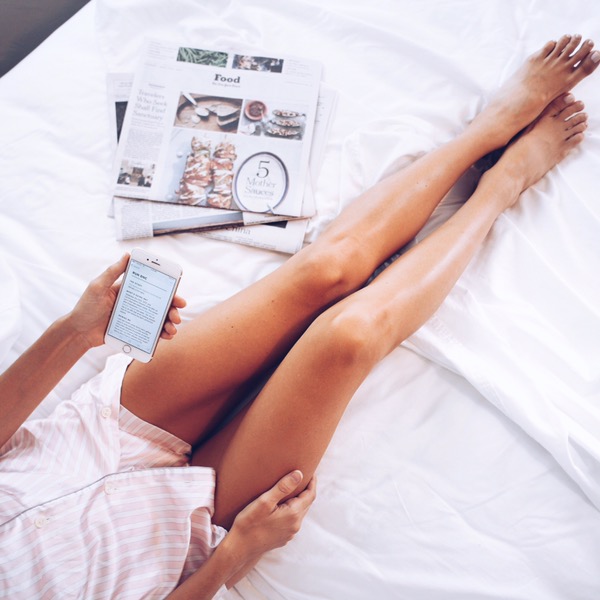 Everyone is busy, I get it. But, there's no reason to put self improvement on the back burner. Developing habits of a healthy lifestyle don't happen over night, but these apps certainly make it easier! Plus, we all have our phones within a hand's reach all day so why not use it to improve your mental and physical wellbeing?!
Knowledge:
Quartz- text conversation with a bot that sends you a news topic and allows you to interact with the story. You're able to continue a conversation on this piece of news or move onto the next story.
HighBrow – an email-based learning service that brings bite-sized courses straight to your inbox every morning. The email takes less than 5 minutes to read and each course lasts ten days. Courses are anything from HTML + CSS basics to Quick Yoga Poses At The Desk. I've done several of their mini courses and have enjoyed all.
TheSkimm – an email service that delivers the most important news of the past 24 hours in a fun and relatable way. Read more about my love of The Skimm here
Body:
SworkIt- app that allows you to customize and play personalized video workouts that fit into your life and schedule. FREAKING AMAZING. I started using this app years ago for stretching and loved that I could do just five minutes a day. Because anyone can spare five mins, right? You are able to choose any length of time that suits you (hey, if you want to do an hour more power to ya!) and offerings include strength, yoga, cardio, and stretching. You can set a daily reminder – awesome for busy people – and it even shows you how many days you've been active. Visual accountability. Love.
Soul:
Shine- A daily motivational text message that arrives at 8:30 to start your morning on a positive note
Notes from the universe– daily emails that are short and humorous reminders of life's magic and our personal power
Headspace- daily guided meditations to help you relax, increase creativity, and reduce distractions